Notepad:Simulacra
Jump to navigation
Jump to search
Representation starts from the principle that the sign and the real are equivalent (even if this equivalence is Utopian, it is a fundamental axiom). Conversely, simulation starts from the Utopia of this principle of equivalence, from the radical negation of the sign as value, from the sign as reversion and death sentence of every reference. Whereas representation tries to absorb simulation by interpreting it as false representation, simulation envelops the whole edifice of representation as itself a simulacrum. -- Jean Baudrillard, Simulacra and Simulation
Absorbed by unreality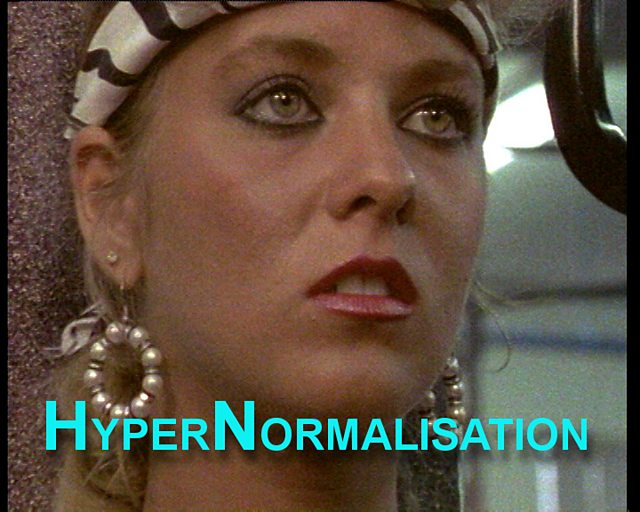 Living in an Unreal World A Film By Adam Curtis. Excerpt from Hypernormalisation (review)
Do you feel we can know reality today? Why or why not?
Take a minute to think of one or two examples that seem somehow representative of our sense of reality. It could be a news story, or an experience you have had. After a minute, you will be paired with a classmate. Each take 2-3 minutes to ask the other partner about their example. Then, join with another pair, and explain your partner's example to the group.
Deceptive signs, ominous portents
The online world has always had its creepy elements. Abuse and misogyny. Catfishing. A bad joke can ruin a life.
We are learning to be mindful of our Digital Tattoo, learning bits of "catfish literacy". But does the challenge go deeper?
Black boxes
FIPPA • privacy • corporate co-option • net neutrality • DRM • risk • patent system • security • trolls • openwashing • CISPA • spying • fraud • tracking • hacking • apathy • CALEA • data snooping • LMS/VLE-ification • mass surveillance • Facebook • phishing • spamming • NSA • Gamergate • PRISM • student data is the new oil • vendor lock-in
Terms of use: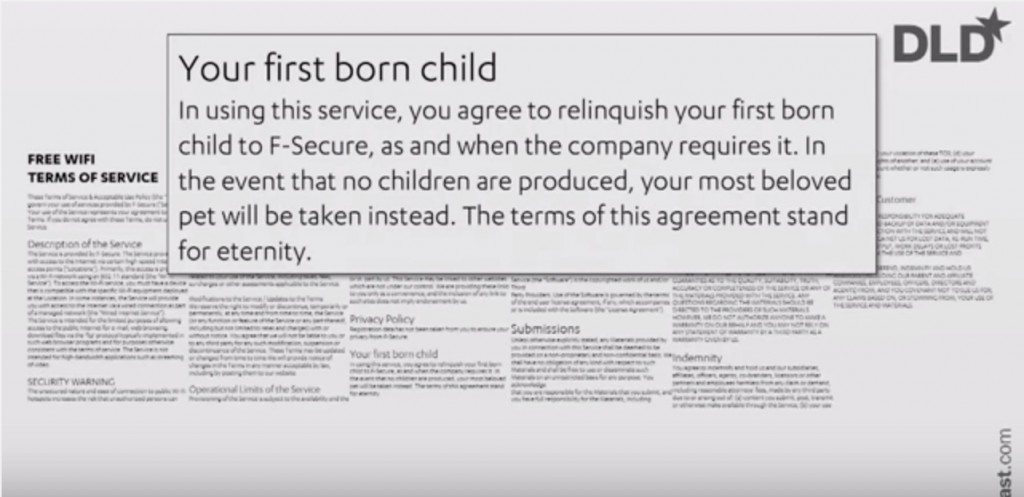 Terms of Service, Didn't Read – Integrates legally-informed ratings with a browser extension.
Filter bubbles - http://graphics.wsj.com/blue-feed-red-feed/

The Macedonian Teens Who Mastered Fake News
the Macedonian town of 55,000 was the registered home of at least 100 pro-Trump websites, many of them filled with sensationalist, utterly fake news. (The imminent criminal indictment of Hillary Clinton was a popular theme; another was the pope's approval of Trump.) The sites' ample traffic was rewarded handsomely by automated advertising engines, like Google's AdSense.

Blue Feed, Red Feed - Liberal Facebook and Conservative Facebook, Side by Side
How Facebook Knows You Better Than Your Friends Do
In the end, the researchers found that with information on just ten Facebook "Likes," the algorithm was more accurate than the average person's colleague. With 150 "Likes," it could outsmart people's families, and with 300 "Likes," it could best a person's spouse.
Data Firm Says 'Secret Sauce' Aided Trump; Many Scoff

Algorithms – The Cathedral of Computation
Here's an exercise: The next time you hear someone talking about algorithms, replace the term with "God" and ask yourself if the meaning changes. Our supposedly algorithmic culture is not a material phenomenon so much as a devotional one, a supplication made to the computers people have allowed to replace gods in their minds, even as they simultaneously claim that science has made us impervious to religion.
How Companies Turn Your Facebook Activity Into a Credit Score
Thousands of data brokers keep tabs on everything from social-media profiles and online searches to public records and retail loyalty cards; they likely know things including (but not limited to) your age, race, gender, and income; who your friends are; whether you're ill, looking for a job, getting married, having a baby, or trying to buy a home. Today, we all swim in murky waters in which we're constantly tracked, analyzed, and scored, without knowing what information is being collected about us, how it's being weighted, or why it matters—much of it as irrelevant and inaccurate as the hearsay assembled during the early days of consumer reporting.
Credit Scores, Life Chances, and Algorithms
It is the iron cage in binary code. Not only is our social life rationalized in ways even Weber could not have imagined but it is also coded into systems in ways difficult to resist, legislate or exert political power.
Surge Pricing for Your Entire Life, Jacob Silverman
Insurers and devices manufacturers have quickly united over their shared love of data—our data—and insurance customers are starting to see the effects. Real-time pricing, behavioral nudges: these are the new costs of being insured.
This month, John Hancock Insurance—whose patriotic namesake might be disappointed that the company is now a wholly owned subsidiary of Canadian giant Manulife Financial—announced that it would distribute rebates to life insurance customers in exchange for access to their fitness monitor and location information.
…What happens when you drive a little too fast on the way to the gym, and your health insurer rewards you but your car insurer slaps on a penalty? What happens when BlueCross knows what's in your smart fridge? Your life becomes a series of overlapping—and often competing—rewards programs, gamified events, penalties, coupons, warnings, alerts, and nudges. Practically your entire existence becomes subject to dynamic surge pricing.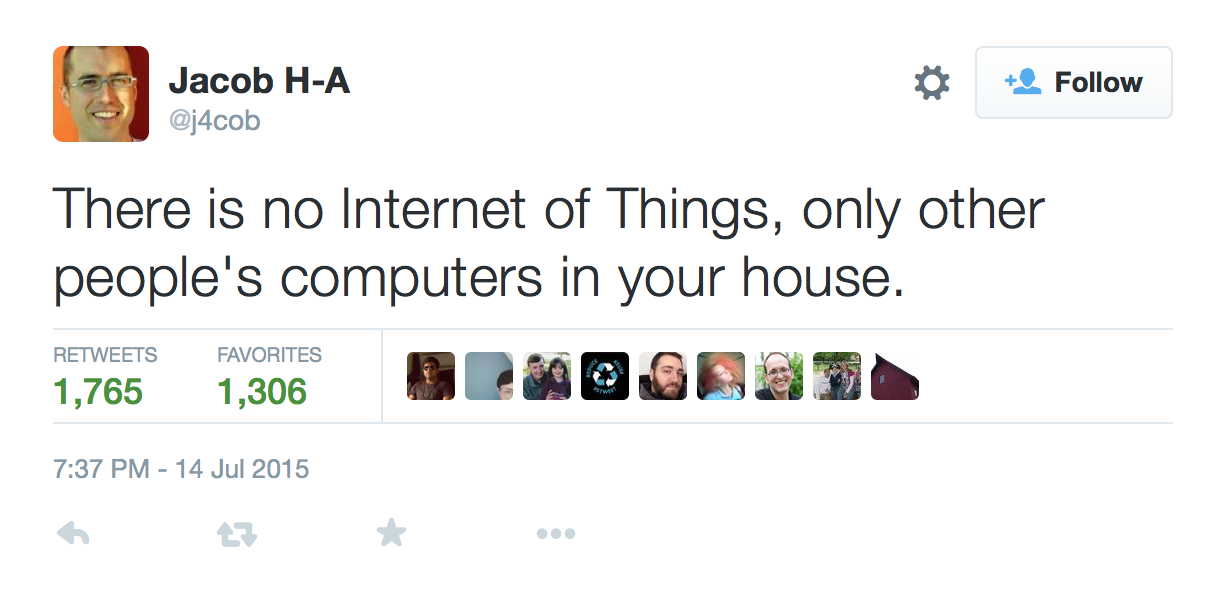 The Epic Struggle of the Internet of Things, Bruce Sterling
Digital commerce and governance is moving, as fast and hard as it possibly can, into a full-spectrum dominance over whatever used to be analogue. In practice, the Internet of Things means an epic transformation: all-purpose electronic automation through digital surveillance by wireless broadband.
A recent Wikileaks dump suggests the CIA has exploits for pretty much every online application, and devices such as TV's ("fake off mode").
You are not safe from data mining when you study, either. data Student Data is the New Oil. You do have strong privacy rights in BC.
You can learn and respond
Education Technology Under Trump: A Syllabus
Web Literacy for Student Fact Checkers
Fact checking sites such as Snopes.
Privacy Badger blocks spying ads and invisible trackers.
AdNauseam quietly clicks on every blocked ad, registering a visit on ad networks' databases. As the collected data gathered shows an omnivorous click-stream, user tracking, targeting and surveillance become futile.
For next class...
Be reading Neuromancer by William Gibson
We will discuss more on what gets done with our data via algorithms... artificial intelligence, and bots. In the meantime, look for examples of new types of automation, or of technologies doing things we used to think of as human functions.
The Singularity: are machines becoming more human, or humans becoming more like machines? Or...?